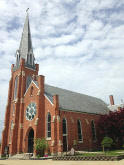 This month is sponsored by
an anonymous donor.
Mass Schedule–
Saturdays at 4:30 p.m.
Sundays at 9:00 a.m.
Confession–Saturdays from 3:45-4:15 p.m.
Or any time upon request.
Parish School of Religion Classes–
Sundays 10:00-
11:00 a.m.
Holy days of obligation–
See Weekly Bulletin
https://www.google.com/url?sa=i&url=https%3A%2F%2Fwww.istockphoto.com%2Fphoto%2F3d-webpage-under-construction-gm592021466-101686087&psig=AOvVaw0uYWbUdmjHy40rrHvItP9A&ust=1634755577825000&source=images&cd=vfe&ved=0CAkQjhxqFwoTCMD_hZ2R1_MCFQAAAAAdAAAAABAD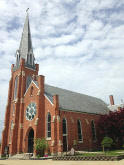 Check out our App!
Text App to 88202 or it can be downloaded from the AppStore or Googleplay. Download myParishApp and select our parish after opening. It has all sorts of information and many wonderful resources!